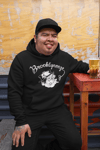 Coming soon
Represent the County Of Kings in style. Art adapted by Adam Suerte (Urban Folk Art Studios) for the cult archival Brooklyneeze© Instagram account, "a living archive for the County Of Kings. The people and places; history, art, and culture… then and now. "
Black unisex sweatshirt with white print, shipped via USPS Priority Mail.
This will be a pre-order sale running for one week. Hoodies start shipping 2-3 weeks later depending on manufacturing.